ON-LINE SHOPPING – PAGE 2
---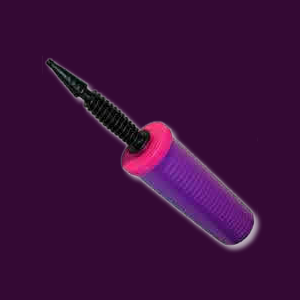 Double action balloon pump – $8.00
An excellent utility for all balloon workers, be they professionals or amateurs.
Both the upstroke and down stroke of this pump push air into your balloons, making for smooth, nearly effortless inflation.
Quality construction for durability. Each component is of molded plastic.
---

Basic pump – $6.00
It's an inexpensive, easy to use, pretty hard to break, hand pump.
This is just the thing for students who might break the more expensive dual
action pumps.
It has an inner compartment where you can keep some spare balloons so it makes a nice little traveling kit. It's a great deal for the price.

---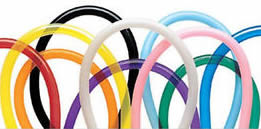 Bag of balloons – 250 balloons $18.00
Qualatex has set the standard in twister's balloons since the early 90's.
They are the best in ballooning!
250 balloons – $18.00
100 balloons – $8.00
50 balloons – $5.00
---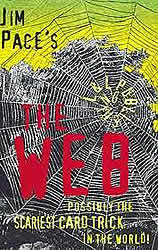 The web – $13.00
Jim Pace's "The Web" will out-impact any other effect in your repertoire.
For those that want to go for the jugular and take no prisoners, the Web gets a more visceral reaction than any card effect ever created! In fact, there are some people you simply should not do this effect for because it starts out so innocently, yet ends with such a startling reaction!
The effect, this makes 'em jump up and scream! Four blank cards are counted onto the spectator's palm up hand. Then pictures of spider webs appear and disappear from the faces of the cards. To conclude, the spectator is asked to wave his hands over the cards. As he does, he discovers a large, realistic spider on the back of his hand. The spider is undetectable, and you are way ahead! At the right time, in the right place, this receives an unprecedented response!

---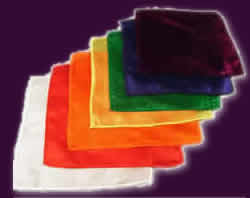 6 inch silk – $2.00
An assortment of colors available.
White
Red
Orange
Green
Blue
Black
---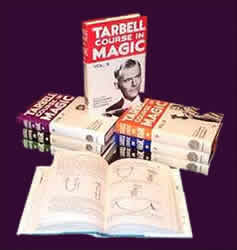 Tarbell course in magic
THE classic course in magic.
First published in 1926 as a correspondence course, the Tarbell course in magic (an eight volume, hard bound book series) is the only introduction to magic universally accepted as required reading for all magicians.
Its eight volumes detail (with crystal clear illustrations) the fundamentals of each
branch of the magical art – from mentalism and coin magic, to stage illusions and
card tricks. Chapters on magic history, publicity, and stage deportment round out
the Tarbell course, making it much more than a series of books about tricks.
Harlan Tarbell created a masterwork with his course in magic. His forethought
shines through as his books continue to be best sellers around the world. Don't
overlook these books!
They are the essential building blocks of any serious magical entertainer or enthusiast's education.
Tarbell course in magic Volume 1 – $24.00
Tarbell course in magic Volume 2 – $30.00
Tarbell course in magic Volume 3 – $30.00
Tarbell course in magic Volume 4 – $30.00
Tarbell course in magic Volume 5 – $30.00
Tarbell course in magic Volume 6 – $30.00
Tarbell course in magic Volume 7 – $30.00
Tarbell course in magic Volume 8 – $36.00
Tarbell course in magic all 8 volumes – $200.00
---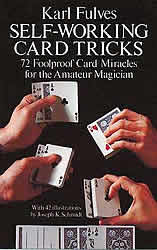 Self working card tricks – $9.00
72 spectacular and entertaining tricks: card locations, coincidence tricks, mental magic with cards, tricks with double endings, tricks with two decks, predictions, tricks with borrowed decks, trick poker deals
Easy to learn, clearly illustrated, these tricks produce spectacular effects with a minimum of practice.
---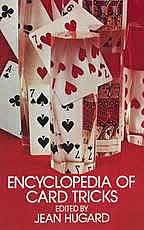 Encyclopedia of card tricks – $15.00
How to perform over 600 card tricks, devised by the worlds greatest magicians.
66 illus. Includes work on the Nikola card system, and tricks that run the gamut from knuckle-busters to self-working miracles.
---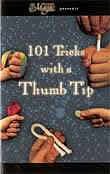 101 tricks
with thumb tip book – $3.00
Learn how to become an expert Thumb Tip manipulator.
This book provides all the basics, and then some. Imagine having the power to vanish nearly any small object, in any situation, whenever you want. That's
the sort of versatility a Thumb Tip can provide you with. The Thumb Tip is commonly used by amateur magicians. But professionals find it indispensable to their work, too. With careful thinking and a minimum amount of practice, you can use the Thumb Tip in a number of diabolical ways to astound even the most
hardened audience.
The step by step instructions in this book give you all the details on how to work
miracles with this secret device.
---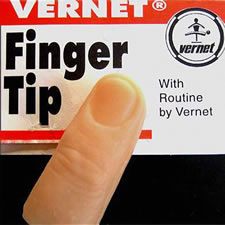 Thumb tip – $4.00
With this finger you can perform all the tricks done with the Thumb Tip but you can also fool the people than know the Thumb Tip.
The Finger Tip is also a suitable thumb tip for teenagers
---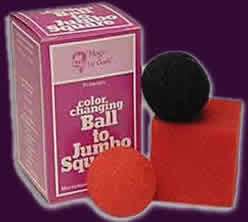 Color changing ball to jumbo square – $5.00
The magician shows a red sponge ball.
After a series of tricky moves with both hands, the magician asks
spectators which hand they think the ball is hidden in. The spectators always guess wrong – in one hand is a BLACK sponge ball, and in the other is a red sponge cube.
The red sponge ball is in the magician's pocket!

---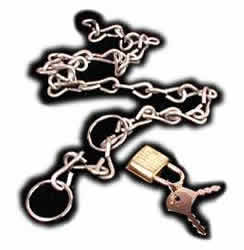 Chain escape – $8.00
Shades of Houdini!
With this trick from FUN Incorporated's Royal Magic division, you can escape
from a padlocked chain that spectators bind you in. The escape is foolproof and instantaneous.
Complete with professional instructions, padlock, keys and chain. Guaranteed easy to do.

---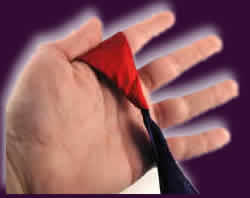 Double color changing handkerchief – $6.00
Two handkerchiefs, tied together, magically change colors when the magician passes his hand over them!
Very easy to do – even for the beginning magician. Economically priced. Supplied complete with special handkerchiefs and instructions.

---